Millit Introduction
MILLIT – CONNECTING INVESTORS AND GROWTH COMPANIES
What is Millit?
Millit is a visual and innovative online funding solution and market place for investors and growth companies.
It is a web market place where start-up & growth companies and investors with common interests can find each other easily and effectively.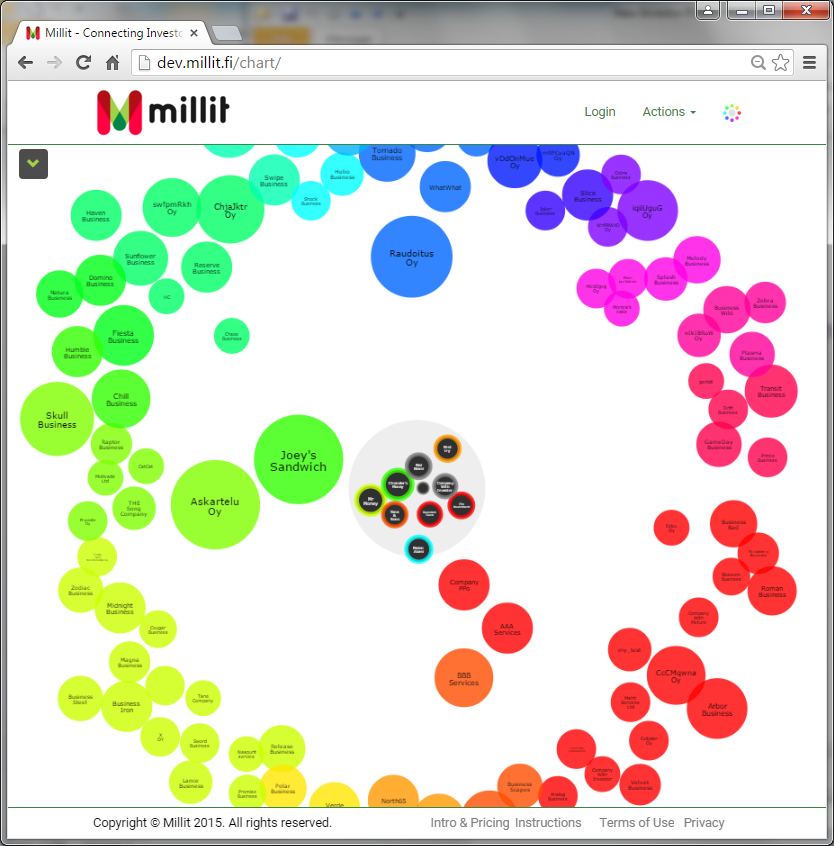 Companies and investors are presented in a visual map as floating circles using algorithm-based match-making segments. Millit provides cognitive platform which is an effective way to display and search for the most attractive partners. It's also a virtual start-up event which is open 24/7. It's like "SLUSH" but open all the time and available for everyone. It's a living thing.
Benefits
For Companies:
Startup companies and growth businesses can easily connect to right investors
Less need for events - Startup events are expensive and time consuming way for businesses seeking funding and only a few minutes opportunity to give a quick snapshot
Marketing opportunity. Market and introduce your solution - Pitch, attract and close investors (24/7)
Enables funding opportunities for all size of companies and with variety of needs (Angel, Venture capital, Private equity, Sweat equity, Loan)
More agile way to get financial - compared to banks with unreasonable pledge requirements
Enables mergers, acquisitions, consolidations and joint ventures
Match with advisors, board members and partners
For Investors:
Easily discover new venture opportunities – no more struggling to find good startups and companies to invest in
Visual indication on company profile completeness and traction
Companies stand out according to investment strategy, industry area etc.
Allows wide range of investor profiles - small/medium/big scale (few thousands … to millions)
Venture capitalist can find the pearls among the startup and growth companies at very early phase
Less need for events which can be in many cases quite non-efficient
How does Millit work?
Investor funds are shown as circles in the middle of the visual map (inside the grey area). Investors who are registered are in the middle of the map with the money.
Companies are shown as individual circles which are mapped around the investors
More content – bigger circle. The more content a company has in its circle, the bigger the circle grows raising more attention.
More interest – closer to centre they move. The more interest (e.g. clicks) a company gets the closer to the centre it gets.
Hotness indicator shows the community feedback (most interesting companies and investors)
Company and investor circles are a living thing in the visual map. All the circles are re-organised according to filtering and search criteria done by the user. Best fitting partners will travel automatically towards each other.
Companies can compare their positions to other companies and investors can compare their positions to other investors
Millit user profiles
1) Browser (non-registered user)
Can see all the details from companies and investors that is set public
Can use filtering and search
Can't create a company
Can't request for investor user account
2) Registered user
Addition to previous access rights:
Can create new companies and can fill in Company Basic Information
Can request for Company Pro account
Can request for investor user account
3) Pro account
Addition to previous access rights:
Can fill in Company Detailed Information
Can select which data is secret information for others than approved viewers
Can share their secret data fields with investors they have approved
Can send Friend Requests to investors (wakeup request for early interest)
Can send Secret data requests to investors (can check the background of investor)
Can see investor's secret data after their approval
4) Investor account
Can see all the details from companies and investors that is set public
Can use filtering and search
Can fill in Investor Information
Can select which data is secret information for others than approved viewers
Can share their secret data fields with companies they have approved
Can send Friend Requests to companies (wakeup request for early interest)
Can send Secret data requests to companies (to see more confidential data of the company)
Can see the company's secret data after their approval
Can select companies they like to follow and get notifications of (after their data updates)
Pricing
| Account type | Price (+VAT) |
| --- | --- |
| Browser (non-registered user) | Free |
| Registered user | Free |
| Pro account | 365 eur/year |
| Investor account | 365 eur/year |